It's Time for Halloween, Scentsy-Style!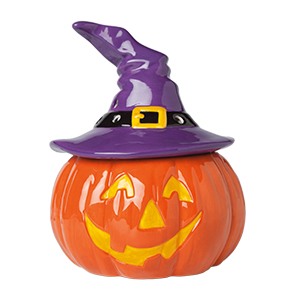 Thrills and chills, candy and costumes – what's not to love about the spookiest night of the year? That's right, it's time for Halloween again, and this year Scentsy has knocked it out of the park with friendly, Halloween-themed warmers full of colorful, clever details. Let's take a peek behind the creaking door to see five fantastic frights…
The Bewitched Scentsy Warmer brings together two of the holiday's most iconic stars: a grinning jack-o-lantern and a purple witches' hat, the tip perfectly askew. Try it with a Pumpkin Roll Scentsy Bar for double the ghoulish gourd goodness!
The Haunted House Scentsy Warmer brings to mind the Addams' family's unforgettable spooky mansion, complete with a "tombstone garden" on the hill below. An eerie black roof and red trim adds even more dark delight! Channel the mansion's dearly departed owner with a cube or two of My Dear Watson Scentsy Bar.
A Haunt Scentsy Warmer Wrap is made to transform a base warmer, such as the Etched Core Scentsy Warmer into a spooky dimensional scene with a foreboding haunted house, grinning jack-o-lanterns and gravestones. Talk about getting into the Halloween spirit! Add a mysterious swirl of a Dark Harbor Scentsy Bar for even more depth.
The Hocus Pocus Scentsy Warmer brings All Hallow's Eve magic to your favorite spaces with a charming scene: a handwrapped wire tree holds a creepy spiderweb above a bubbling cauldron, ready to be filled with your favorite fragrance. A Cozy Fireside Scentsy Bar will help bring that detailed fire to scented life.
Finally, the House on Haunted Hill Scentsy Warmer brings you a night for trick-or-treating in full color: dramatic purple skies and black bats flutter against a full moon. The only thing that could make this even scarier? A Thunderstorm Scentsy Bar, of course.
Light up the night and keep the ghosts at bay with delightful Scentsy fragrances: these warmers are a great choice for your Halloween decor this year.