A Scentsy Leaf Warmer Worth "Falling" For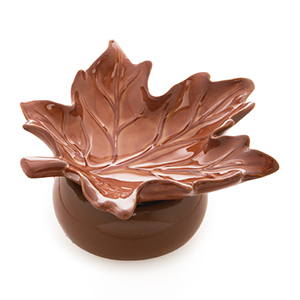 Autumn is when Mother Nature fills her forests with a kaleidoscope of colors, painting the trees gorgeous shades of fiery red, warm orange and golden yellow. This natural show is so beautiful that "leaf watchers" even flock to certain states like Vermont and New York to take it all in! Why not celebrate this special time of year in your own home with Scentsy Leaf Warmers?
Simple and Lovely
The Maple Leaf Scentsy Warmer cradles your favorite fragrances in a beautiful rust-brown leaf, letting them slowly drift throughout your favorite spaces like a dance of fluttering fall leaves. The low profile of this Harvest Collection warmer is ideal for smaller spaces, such as counters under cabinets in the kitchen, or tucked into the corner of a bathroom vanity. If you'd like to tie Fall into your scent choice, the Autumn Blaze Maple Scentsy Bar is a perfect choice, packed with apples, pumpkins and, of course, maple syrup!
Serenity in the Trees
If the peaceful silhouette of winter-ready trees is your favorite fall scene, the River Birch Scentsy Warmer or Aspen Grove Scentsy Warmer pay homage to that wonderful view. If you'd like to add your own colorful "leaves", pop in a bright red cube of a Cedar Cider Scentsy Bar, add a bit of golden Spiced Pear Scentsy Bar and swirl – voila, your very own scented autumnal hue! Don't be afraid to experiment with combinations of your favorite bars – the possibilities are endless.
As you enjoy the warmth of your home and peek at the leaves changing color outside, these home decor-fragrance combinations will bring the best of the season inside. As the weather grows brisk and winter starts to hint at an arrival, these warmers and scents are a reminder to take time to curl up with a favorite blanket and book at the end of the day.