Colorful Customization: Tricks & Treats Scentsy Warmer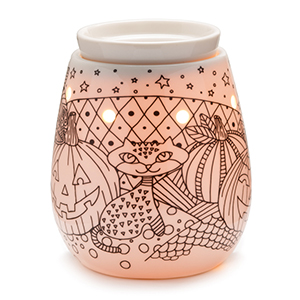 Adult coloring books are more popular than ever, and for very good reasons: they're fun, they help relieve stress, and there's no "wrong" way to enjoy them! Scentsy takes this exciting hobby one step further by letting you customize the home fragrance experience you already know and love through "DIY" warmers.
Make it Your Own
The Tricks & Treats Scentsy Warmer.features a sweet scene of pumpkins, stars and a sassy cat, all decked out in patterns that are begging for your favorite colored permanent markers. Feel your stress melt away and relive the secret childhood thrill of Halloween as you dot, line and scribble your way to a Scentsy warmer that's truly you!
Fun for the Family
Coloring in this seasonal Scentsy warmer is an activity your kids will love, and one they'll remember every year as they unpack your spooky holiday decor. Just like a coloring book, there's no "wrong way" to make this home fragrance warmer unique, so let their imaginations run wild!
Scent + Color = Halloween Delight
You can even match the characters your family creates to a favorite scent – classic autumn colors blend well with bars like October 2016's Scent of the Month Farmstand Pumpkin Scentsy Bar, but that's only the beginning. If your sassy kitty ends up blue, a Luna Scentsy Bar will add some All Hallow's Eve mystique. Green pumpkins? Channel a candy-filled Halloween bag and pop in a delectable Marshmallow Mint Scentsy Bar. No matter which colors and fragrances you choose, your illuminated creation will be one of a kind!
P.S. – If you'd like to continue the creativity through November, there's a warmer for that, too – the sugar skull-inspired DIY Calavera Scentsy Warmer. It's not just a fun way to celebrate Day of the Dead on November 1st, it's an excuse to break out your favorite markers all over again.