Scentsy 2015 Fall / 2016 Winter Product Catalog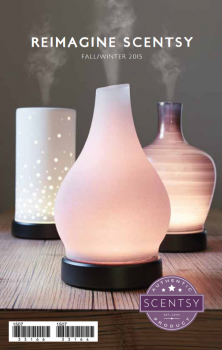 Scentsy's 2016 catalog (Fall/Winter 2015) saw some great new product lines. Scentsy Car Bars, essential oils, and a whole new, easier way to shop for Scentsy products online.
View the new Scentsy 2016 Catalog.
Ask me how to throw a Scentsy catalog party! We have special holiday products that may or may not show up in the catalogs. View my website for a current product list. This year, Scentsy released a special catalog dedicated just for fragrances. View the Scentsy Fragrance Catalog.
New Scentsy Categories include the "Scents" category which includes Scentsy Bars, Scentsy Car Bars, Natural & Essential Oils, Room Sprays, Scent Circles, Scent Paks, and Travel Tins.
There is alsto a new "Clean" category which includes Counter Clean, Hand Soap, and Kitchen Soap.  That makes it nice to remember the category.  Is it for cleaning?  Bam! There you go.
The Laundry category now contains Clothing Conditioner, Dryer Disks, Laundry Liquid, and Washer Whiffs.
An all new "Skin" category features Fine Fragrance Roller, Velvet Hand Cream, and Whipped Body Souffle.   Some much-needed, decadent pampering for your skin.  All in your favorite Scentsy scents.
An all-new kids section features special kids-only product categories.  Those Kids categories are Bath Smoothie, Scrubby Buddies, Buddy Clips, Kids Warmers, Kids Scentsy Bars, and Limited Edition Kids' Scentsy Buddies
Take a few moments and view the Scentsy catalog, online.  Click the link below.
https://jennb.scentsy.us/Static/ViewMyCatalog