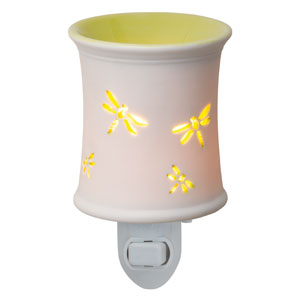 Damsel Plug-In Scentsy Warmer
Is there anything more soothing than sitting out on a bright sunny day while watching jewel-hued dragonflies merrily buzz on by? Now you can recreate that scene at anytime by plugging in this cheery warmer. Released by the warmer's warm light, the shapes of dragonflies will glow upon your walls, instantly uplifting your mood.
Bumblebee Plug-In Scentsy Warmer
Longing for the jovial atmosphere of a spring day, even during the night? With our Bumblebee Plug-In warmer, you'll be able to fragrance your home with our most heavenly seasonal scents while enjoying the playful light show created by its cut out shapes. Glowing forms of adorable bumblebees will take flight upon your walls, wowing all in the room!
Lacewing Plug-In Scentsy Warmer
Now you can turn your room into a beautiful butterfly garden at any time your heart desires. Simply plug in this compact warmer and a playful display of lights will reveal the shapes of enchanting butterflies upon the walls. Use it with your favorite floral scents to make the dream complete.