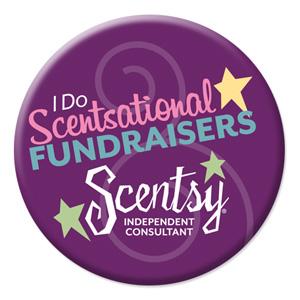 I love helping others raise money through doing a Scentsy Fundraiser!
My goal is to provide your organization with a first class fundraiser that is fun, easy to do and very profitable.
If you're wondering what it's all about, here are some common questions that I get asked.
I am committed to giving you a first class fundraiser with the safest alternative to candles with excellent customer service along with our high-quality product guarantee.
What Is Scentsy? 
Scentsy started with our wickless scented candle warmers, called Scentsy Warmers.  They use a low wattage light bulb to warm the Scentsy wax bar and release the fragrance, without any hazards, toxins or worries that traditional scented candles hold.  There are over 150 decorative warmers, and over 80 scents to choose from.  Scentsy has added many other scented products to our line.  There is even our Layers by Scentsy line that features personal care items and even laundry products!
With your Scentsy Fundraiser, you can choose to offer all the products, or a select few, in order to simplify it for the customer.  I will work with you to decide what will work best for your group.
Why Would You Want To Do A Scentsy Fundraiser?
When you choose a Scentsy fundraiser, you can be assured that you're providing lifetime guaranteed and authentic products that they will use and love.  Everyone loves to have their homes smell great with scented candles, so why not offer them a safe alternative that they will use every day and that will look beautiful in their home or office?  They will look forward to your annual Scentsy Fundraisers!
How Much Can Your Organization Earn?
It is up to each Scentsy Consutlant, what they are willing to donate to their fundraiers.  I will donate my entire commissions 25-30% of all sales to your organization, plus provide all catalogs, order forms and anything else that is needed to make it a success.
There is no shipping, and turnaround time from time of turning in orders is 2-3 weeks.  You will receive your funds on the 15th of the following month that the fundraiser was closed in.  If we closed your fundraiser on Feb 20th, you'd receive your funds on March 15th.
What Can You Expect?
I will find out what kind of fundraiser it is you'd like to do.  I can send you products to display and scent testers for people to try out.  If you have students or individuals that will be selling, I will provide a Fundraiser Showcase Brochure, order forms and all other materials for each student to use to collect orders.  I will also set up your fundraising event on my website, so that we can collect online orders.  This works great at getting orders from friends and family that live out of town and still want to show support.  The link can be shared through Social Media and we can create the Event on Facebook.  I will also share and promote your event on both my business and personal FB pages!
Every participant will have my contact information in case questions come up.
If there won't be individual participants, I will work closely with you to come up with the best way to set up and make your fundraiser a success.  Each Scentsy Fundraiser is customized to the needs of that organization.
Once the Fundraiser is closed, I will send you all the bags, stickers and things needed to sort and package up the items.  If I have a consultant local to you, I can arrange for them to sort and package the items for you.
I am committed to giving you a first class fundraiser with the safest alternative to candles with excellent customer service along with our high-quality product guarantee!
Helping your group meet their fundraising goal is my number one priority!  Feel free to give me a call and we'll discuss what works best for you, and to go over any other questions you might have.
Jenn Burton
801-529-3589