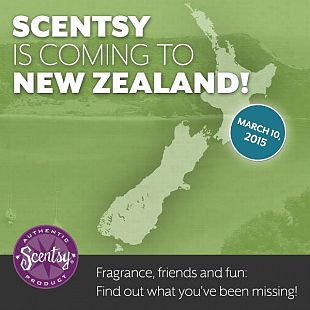 Scentsy is proud to announce that on March 10, 2015, that New Zealand will be open for business!! We have been so happy to have Australia come on board last year and the Aussies have experienced tremedous growth and success! There is no doubt that Scentsy in New Zealand will experience the same thing.
Scentsy has been around for over 10 years and is now helping change the lives of consultants, and their customers in over 14 countries! We are allowed to sponsor consultants in any country and build teams there. However, we don't SELL products to customers in those other regions because we believe that those customers need to find a consutlant in their area to purchase from. This is a win-win for the customers and also the new consultants as they work to build their business.
I live in the USA, but have a large amount of team members in all of these countries. We keep in contact through our team Facebook page, team calls, newsletters and email. This is a great benefit to those that are just beginning their business and are working at growing it.
I am so excited to see Scentsy in New Zealand and to build a team of strong leaders there. It is a very simple business with simple products that everyone falls in love with. You don't have to consider yourself a "salesperson" or think you have to be pushy to be succesful. It is honestly as simple as showing and sharing the products. People love to have their homes smell fabulous without the hazards of soot and flames that traditional scented candles have. Our Scentsy warmers are beautiful and high quality with many to choose from. There is something for every style of home decor and fragrances to please anyone.
To join Scentsy in New Zealand, you will simply to to my website www.TheScentGirl.com/join and then choose your country. It will walk you through the enrollment process and ordering your Start Up Kit, which includes everything you need to get off to a fantastic start. It even includes several of our products that you can use to display and use at your first party to introduce the products to all your family and friends!
As you wait for our grand opening on March 10th, you can browse our current Australia Spring/Summer Catalogue and become familiar with the products. Feel free to contact me with any questions that you have!