Scent Up Your Bath With Scentsy Bath Tablets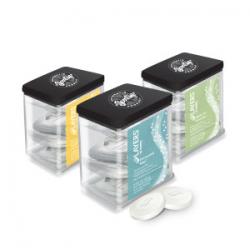 Scentsy Be Still Layers Bath Tablet
Your life can get incredibly busy, which is why you cherish the moments in which you're able to indulge in a break from all of the hustle. Relax, unwind, and Be Still with these beautifully soothing Layers Bath Tablets. You'll be lulled into a meditative mood with lush notes of mandarin, violet, and sandal.
Scentsy Coconut Lemongrass Layers Bath Tablet
Just because you can't make it to the beach doesn't mean you can't enjoy the pure refreshment of tropical waters. The crisp scent of these bubbling Layers Bath Tablets will have you feeling as if you're sipping on a cool Piña Colada and watching the Caribbean tide roll in.
Scentsy Enchanted Mist Layers Bath Tablet
With these bedazzling Layers Bath Tablets, the soothing steam of your daily bath will be transformed into an Enchanted Mist straight from a fairytale scene. Indulge in hypnotic notes of juicy apple, beckoning rose, and seductive jasmine blossoms.
Scentsy French Lavender Layers Bath Tablet
You love using your bath time ritual to unwind and release the stress of your everyday troubles. Whether its a looming deadline at work or fussy kids, all of your worries will evaporate once you breathe in the comforting steam created by our French Lavender Layers Bath Tablets.
Scentsy Linger Layers Bath Tablet
It's the night of your big date, and you're spending as much time primping and prepping as possible. Make that special someone never want the night to end by using these sumptuously scented Layers Bath Tablets to layer upon your skin. Ravish yourself with notes of praline, apple, grapefruit, and creamy marshmallow to spark ultimate temptation.
Scentsy Love Story Layers Bath Tablet
It's one of those evenings where you're in an inescapably romantic mood. Leafing through the pages of your dearest love letters and soaking in a sultry bath sound like the ultimate indulgence on a night like this. Dive into the spirit of amor with notes of sweet amber, jasmine, and deep chocolate.
Scentsy Lucky in Love Layers Bath Tablet
When you meet that special someone for the first time, it feels like you've felt the wave of love rush over you. Give yourself a splash of the sweetly overwhelming sensation with the addictive aroma of citruses like mandarin and bergamot, combined with sugared notes of peach and berry.
Scentsy Luna Layers Bath Tablet
As the misty moon twinkles outside your window, you can feel her beckoning call. Celebrate her grace and make it all your own with delicate yet exciting notes of white florals such as freesia, jasmine, and sweet pea, berries, and enchantingly exotic sandalwood.
Scentsy Quiver Layers Bath Tablet
You can't help but feel a rush of delight whenever the object of your heart's affection is near. When you use these playfully scented Layers Bath Tablets, you'll be overcome with butterflies once again. Thrill yourself with the romantic aroma of vanilla flower, tuberose, and warm sandalwood.
Scentsy Route 66 Layers Bath Tablet
Just because you're spending a night indulging in a long bath time soak doesn't mean you can't enjoy the spirit of adventure. Release the essence of freedom when you use these refreshingly scented Layers Bath Tablets. You'll be invigorated by breezy notes of citrus, herbs, and musk.
Scentsy RU N2 Me Layers Bath Tablet
There's nothing more exciting than the mystery of love in its early bloom. You can't help but feel thrilled by the mystery, always wondering if that special someone feels the same way about you. Delight in the intrigue with flirty pink pepper, tart cassis, and complex woods.
Scentsy Satin Sheets Layers Bath Tablet
A woman who can't go without her nightly bath is certainly one who values luxury above all else. Indulge in your passion for the finer things in life with this wonderfully sumptuous fragrance. You'll be caressed by notes of rich sandalwood and sultry vanilla.
Scentsy Simply Irresistible Layers Bath Tablet
Bring the mystique of the outdoors right into your tub with these herbaceously fragranced Layers Bath Tablets. You'll feel as if you've dipped into a wild forest stream when you breathe in the invigorating aroma of green moss, musk, amber, and lavender.
Scentsy Skinny Dippin' Layers Bath Tablet
Dive on in to the wonderful fun of summer with your friends. When you let your hair down and take a walk on the wild side, memories full of laughter and innocence are formed. Enjoy the bright, cheerful fragrance of luscious melons, juicy apples, and crisp green pears.
Scentsy Sugar Cookie Layers Bath Tablet
Who can resist the warm, mouth-watering fragrance of a freshly baked sugar cookie? When you coat your skin with this delectable yet simple aroma, everyone will take notice. You'll smell so scrumptious, you'll become truly irresistible to all.
Scentsy Sunkissed Citrus Layers Bath Tablet
As these refreshing Layers Bath Tablets fizz in the warm, caressing water of your bath, they'll release the bright, effervescent fragrance of a summer citrus grove. You'll find your mood uplifted and skin left radiant with the vibrantly glowing scent of oranges, lemons, limes, and grapefruit.
Scentsy Vanilla Suede Layers Bath Tablet
You love the smooth, sensual aroma of vanilla just as much as the next girl, but you often find yourself longing for a more complex scent. Give your senses a treat that is completely unpredictable with the velvety, rustic fragrance of Vanilla Suede. Notes of deep amber, warm vanilla, and rich woods and spices combine to make a sophisticated aroma.
Scentsy White Tea and Cactus Layers Bath Tablet
As you draw the water for your bath, you've already begun to enter your ritual of clarifying meditation. Let invigorating notes of juicy green cactus and subtle white tea take you into the realm of nirvana as you use these tranquil Layers Bath Tablets to calm both your body and mind.
Scentsy Zeppelin Layers Bath Tablet
When you use these inspiringly aromatic Layers Bath Tablets, you'll find your spirit soaring high with positivity. Prepare yourself for the day and cultivate a mood full of energy with uplifting notes of green sage, sharp vetiver, luminous citrus, and a touch of earthy sandalwood.